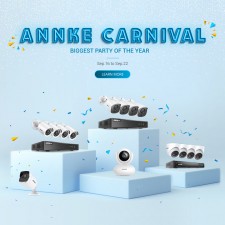 NEW YORK, August 29, 2019 (Newswire.com) - ANNKE is throwing a big shopping carnival to celebrate its fifth year anniversary and reward customers out of gratitude. Customers will save up to $150, and there is a chance to get orders refunded.
Customers can purchase ANNKE's best-selling smart security products on its official online store here:
https://www.annke.com/collections/product
"ANNKE has already been established for five years. In those five years, we developed a whole range of innovations, such as PoE Network Video Recorder Kit, 4K Surveillance System Kit, Wireless IP Cameras and Battery-powered Cameras, etc. We would love to give the credit to our faithful customers and reward them with the best offers as our sincerest gratitude," said Jet Lee, CEO of ANNKE. "Have fun at the ANNKE Carnival 2019!"
Best Offers for Customer Appreciation
Offer 1: Limited Discount
Now by subscribing to its newsletter, customers can get special CODES for a limited discount and keep up with the latest offers. 
CODES are available on September 16 to 22: $30 off $200, $70 off $400, and $150 off $800.
Offer 2: Order for Free
For orders made on ANNKE's official online store from August 26 to September 22, they will draw two lucky fellows and get their orders refunded.
Customers can enjoy a huge discount when they purchase security products on ANNKE's official online store, but they also have a chance to get those products for free. What a tempting offer.
For more about special offers on ANNKE's wide-range of security cameras, please visit ANNKE Carnival 2019 here.
About ANNKE
ANNKE is the global leading provider of home security solutions, smart homes, professional security, business suites, etc., and is striving to become a leader in professional security based on cloud computing and Internet of Things technologies.
For more details about ANNKE and its smart security solutions, please visit:
Or visit the U.S. Amazon store:
https://www.amazon.com/stores/node/10604332011
Media Contact
Name: Arya
Email: pr@annke.com
Source: Annke
Share: